I got this recipie from Rick Stein's program, it is an authentic Indian Chicken Korma and tastes wonderful. If you can't get

white poppy seeds

just leave them out. I used

dessicated coconut

as I could not get coconut flesh - it turned out fine.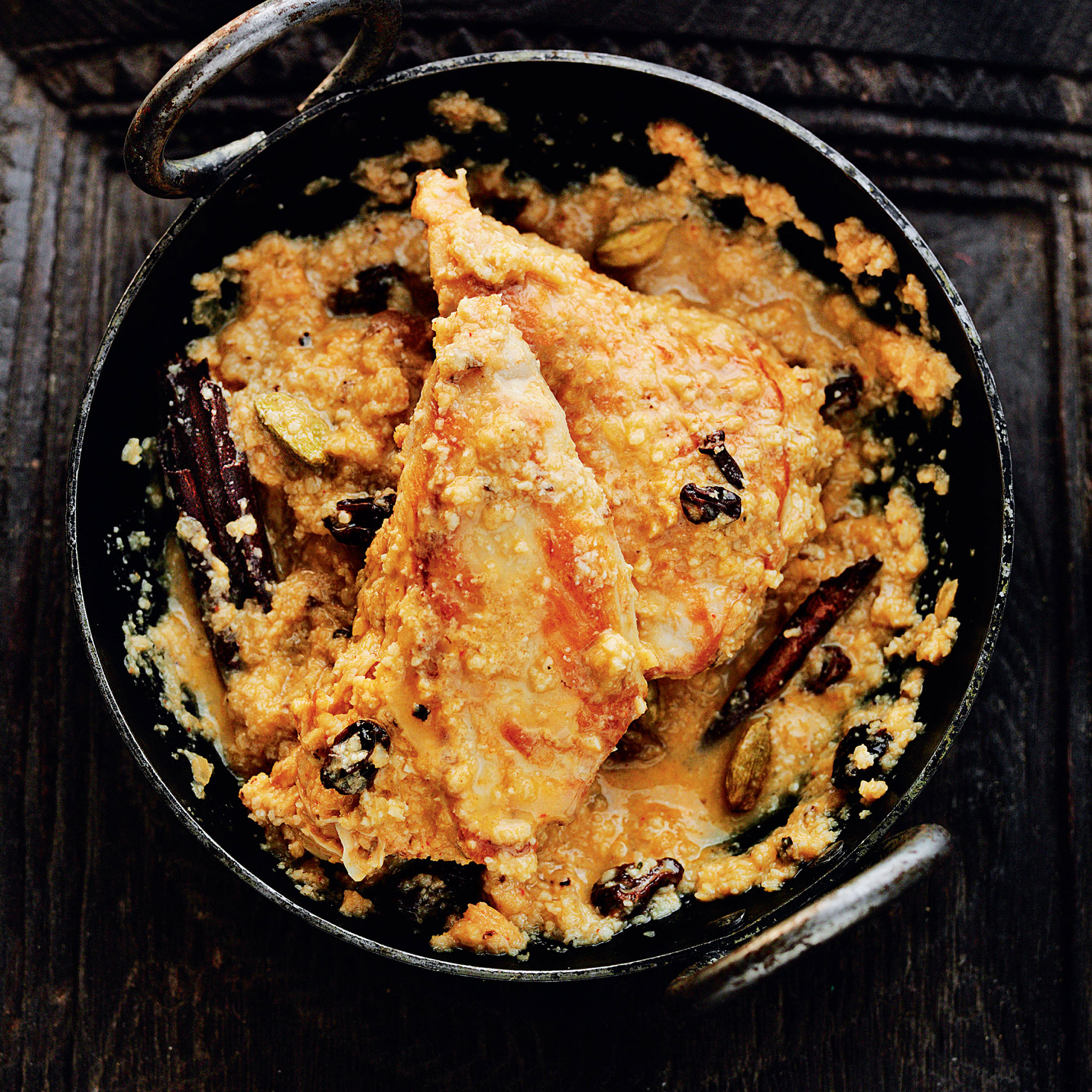 Chicken Korma
Rating : Moderate to Difficult
Ingredients:
1 x 1.5kg
chicken,
jointed into 8 pieces, or 1.5kg of chicken pieces, skinned
Coconut Paste:
125g fresh or frozen coconut flesh chopped or grated
50g blanched almonds, roughly chopped
5 tsp white poppy seeds
For the marsala:
2 medium onions, chopped
50g ghee
6 cloves
6 green cardamon pods, lightly bruised with a rolling pin
3cm piece of cinnamon stick
1 tsp salt
½–¾tspKashmiri chilli powder
200mlwater
125ml thick Greek-style yogurt mixed with 125mlwater
3 black cardamom pods, seeds only, finely ground
2 tbsp raisins, soaked in 4 tbsp boiling water for about 10 minutes, drained
Method:
For the coconut paste, blend the coconut, almonds and poppy seeds together in a mini food processor to a paste, adding enough hot water to give a silken texture.

For the masala, blend the onions in a mini food processor to a paste, adding a splash of water if needed. Heat the ghee in a sturdy, deep-sided pan over a medium heat, add the cloves, green cardamom and cinnamon stick and fry for 30 seconds. Stir in the onion paste and salt and fry for 10 minutes until any liquid has evaporated and the onions are softened and translucent, but not coloured.
Stir in the chilli powder, then add the chicken pieces to the pan and fry for 10 minutes to brown slightly. Add the water and the coconut paste, bring to a simmer and cook for a further 10 minutes
Take the pan off the heat, stir in the yogurt mixture, then return to a gentle heat and bring to a simmer.
Cook, uncovered, for 30 minutes, adding a little water if it starts to stick, until the chicken is cooked through and the masala thick and rich. Stir in the ground black cardamom, scatter with the raisins and serve.
............................